Bosses like Sir Philip Green should have to face large fines to avoid a repeat of the BHS pension fund disaster following the retailer's collapse, MPs have said.
They are calling for new powers which would have meant Sir Philip facing a charge of £1bn – three times the £350m he has reportedly been asked to contribute to the BHS retirement fund shortfall.
Such rules would have given Sir Philip a much stronger incentive to sort out the retailer's pension scheme while he still owned it, the report by the Commons Work and Pensions committee said.
The report said BHS was only one example of the potential problems building up for UK pension funds, with 74% of final salary schemes in deficit last month, to the tune of a total £195bn.
BHS's collapse earlier this year resulted in the loss of 11,000 jobs and left a £571m deficit in its pension scheme – leaving the retirement income of 20,000 former staff in limbo.
It came the year after Sir Philip sold the business for £1 to former bankrupt Dominic Chappell.
The Pensions Regulator has stepped up a probe into Sir Philip and Mr Chappell and others involved in the running of BHS as it seeks redress for pension scheme members.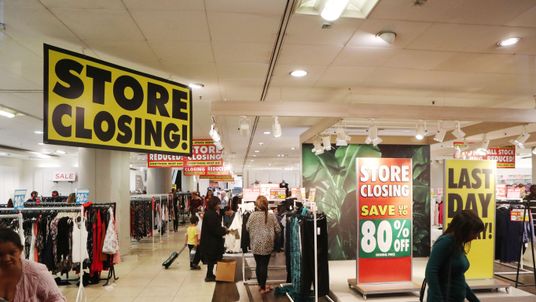 It said last month that it had yet to receive a "credible and comprehensive" offer to resolve the retirement fund shortfall.
Frank Field, chair of the select committee, said: "It is difficult to imagine the Pensions Regulator would still be having to negotiate with Sir Philip Green if he had been facing a bill of £1bn, rather than £350m.
"He would have sorted the pension scheme long ago."
The committee proposed a series of measures "to reduce the chance of another scheme going down the BHS route".
They also include allowing the regulator to intervene earlier in troubled pension funds and giving pension fund trustees new powers to take decisions in the interest of scheme members.
Mr Field said: "To prevent another BHS we need to have the means to nip inevitable disasters like this one in the bud.
"It will sadly be of no comfort to the 20,000 BHS pensioners facing cuts to their promised pensions, but had just some of these measures been in place they might never have ended up in that situation."
The Department for Work and Pensions aid: "The majority of employers are managing their pension schemes responsibly but a few recent examples have raised some important questions."
"In the coming months we'll be publishing a Green Paper on pension funding and as part of this we'll be looking at powers of the Pensions Regulator."
source: news.sky.com