The US says it has identified "potential preparations" for another chemical attack in Syria, and issued a stark warning to the Syrian government.
The White House said the activities were similar to those made before a suspected chemical attack in April.
Dozens died in the attack which prompted President Trump to order a strike against a Syrian air base.
The US statement warned President Bashar al-Assad of "a heavy price" if another strike occurred.
It said "another chemical weapons attack by the Assad regime" was likely to result "in the mass murder of civilians".
The statement added: "As we have previously stated, the United States is in Syria to eliminate the Islamic State of Iraq and Syria. If, however, Mr Assad conducts another mass murder attack using chemical weapons, he and his military will pay a heavy price."
Officials at the State Department and the Department of Defense were caught off guard by the White House announcement, suggesting it was not discussed in advance with other national security agencies, US media reports.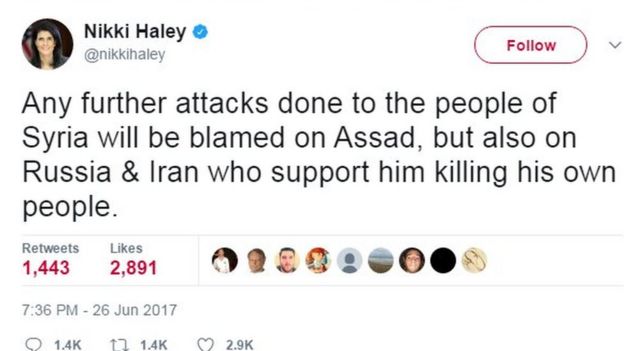 The US ambassador to the United Nations, Nikki Haley, said Russian and Iran – Mr Assad's key allies – would also be responsible if such an attack took place.
"Any further attacks done to the people of Syria will be blamed on Assad, but also on Russia & Iran who support him killing his own people," she tweeted.
The Syrian government has not responded to the US statements.
President Assad denied his forces were behind the suspected nerve gas attack in the rebel-held north-western town of Khan Sheikhoun in April.
Dozens of civilians, including many children, died.
In response, US Navy ships in the Mediterranean fired 59 Tomahawk cruise missiles at Shayrat airfield, in western Homs province, which it said was used to store chemical weapons.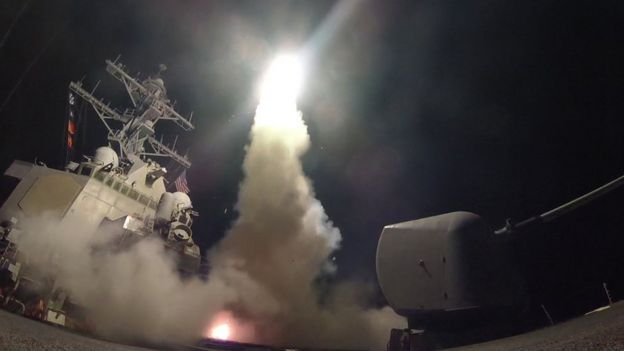 The latest development comes amid increasing tension in the region between the US and Russia.
Russia has supported Mr Assad's forces since 2015 with air strikes against what it terms Islamist extremists.
It accused the US of breaking international law with its cruise missile strike, and more recently warned the US-led coalition that it would view its aircraft as targets after the US shot down a Syrian military plane.
'Unprecedented'
Valerie Szybala, of the Syria Institute, a Washington-based research group, told the BBC that the White House statement was a very unusual intervention.
"This is unprecedented over the course of the conflict. We've never had this sort of pre-warning from US intelligence about a potential attack," she said.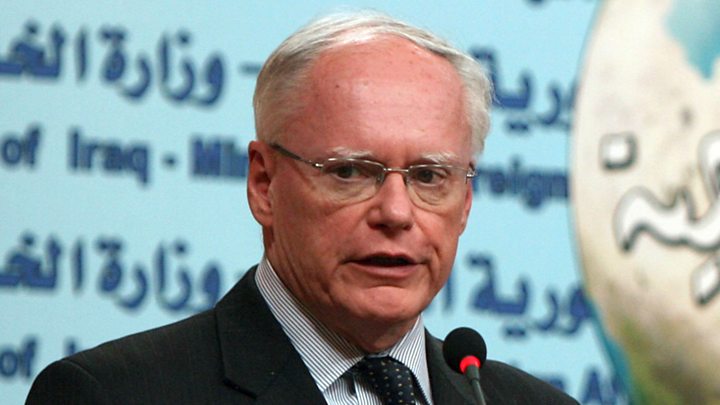 "I think we should all be cautious, particularly with this White House, but… there is evidence in the past chemical attacks [that] the intelligence community in the US apparently did see signs beforehand, so it is quite plausible."
Syria's six-year civil war has left more than 300,000 people dead and created more than five million refugees.
Militant Islamist groups including so-called Islamic State (IS) have used the conflict to seize swathes of land.
Warplanes from a US-led coalition are supporting an alliance of Arab and Kurdish militias as they carry out an assault on the group's stronghold of Raqqa.
source: BBC