The head of Swedish journalist Kim Wall has been found, two months after she disappeared on a trip with a Danish submariner, Danish police say.
Her head was found in a bag that also contained two legs, Copenhagen police inspector Jens Moller said. Another bag contained her missing clothes.
Ms Wall's torso was found in the sea off Copenhagen 11 days after she boarded Peter Madsen's submarine on 10 August.
The 46-year-old denies murdering her.
He also denies a charge of mutilating her corpse.
An 'exceptional' journalist remembered
Who is DIY submariner Peter Madsen?
Mr Moller said the body parts were found after several dives in waters around Copenhagen, and were contained in bags that had been weighted down with pieces of metal.
"Last night our forensic dentist confirmed that it was Kim Wall," he said.
No fractures were found on Ms Wall's skull, he added.
The bags were found just one kilometre from where Ms Wall's torso was found on 21 August. A post-mortem examination revealed knife wounds to her genitals and ribcage, which are believed to have been caused "around or shortly after her death".
An exact cause of death has yet to be established.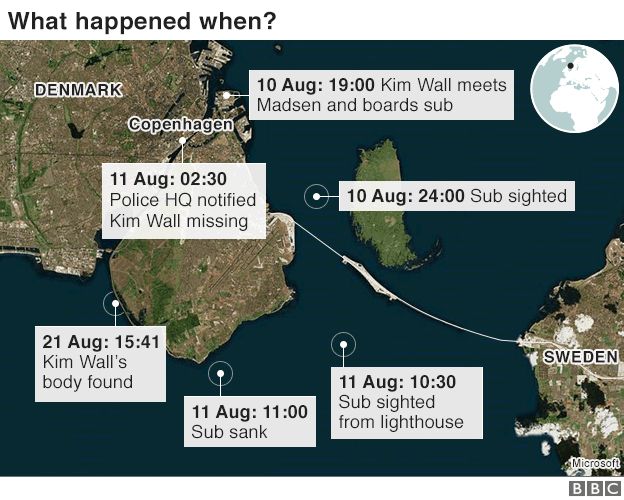 Ms Wall, 30, was last seen alive on the evening of 10 August as she departed with Mr Madsen on his self-built 40-tonne submarine, UC3 Nautilus, for a story she was writing about his venture.
Her boyfriend raised the alarm the next day when she did not return from the trip.
Initially, Mr Madsen said he had dropped her off safely in Copenhagen. He later changed his story to say she died in an accident after hitting her head on a hatch and he had "buried her at sea".
Danish Prosecutor Jakob Buch-Jepsen told a court earlier this month that footage of women being decapitated alive had been found on a hard drive believed to belong to Mr Madsen.
Mr Madsen, who denied the hard drive was his, was detained for a further four weeks while investigations into the case continue.
source: BBC