US President Donald Trump has delayed the release of some "sensitive" files about the assassination of John F Kennedy.
Mr Trump released 2,891 records but, after requests mostly from the CIA and FBI, said he had been left with "no choice" but to keep approximately 300 others secret.
In a memo, he said: "Executive departments and agencies have proposed to me that certain information should continue to be redacted because of national security, law enforcement and foreign affairs concerns.
"I have no choice, today, but to accept those redactions rather than allow potentially irreversible harm to our nation's security."
Those records will be reviewed further over the next six months.
The President added: "At the end of that period, I will order the public disclosure of any information that the agencies cannot demonstrate meets the statutory standard for continued postponement of disclosure."
There has been much speculation about what might be contained in the previously unseen files regarding the fatal shooting of President Kennedy in Dallas on 22 November 1963.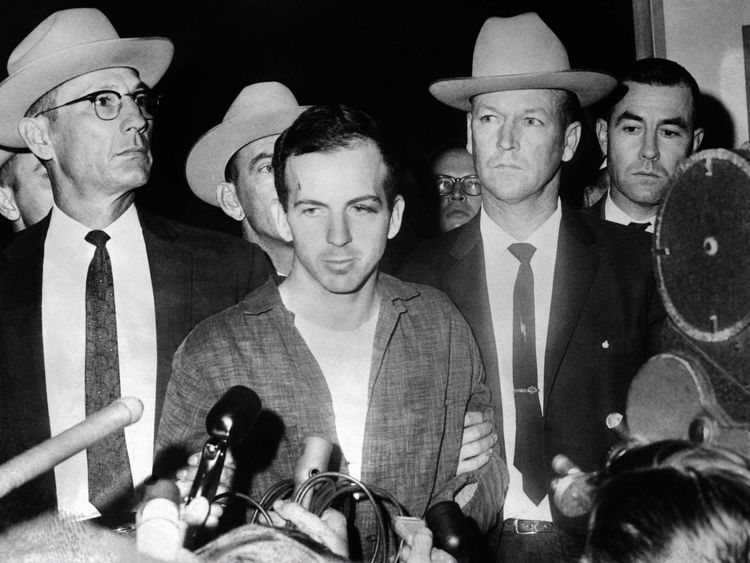 Sky News US Correspondent Cordelia Lynch said the delay would "only deepen intrigue in a story already rich with mystery".
She added: "Historians and analysts I have spoken to are saying they weren't expecting a smoking gun of sorts, they don't believe there is a second gunman but do want to know more about the CIA's involvement (in the assassination)."
The documents were published on the US National Archives website and they showed how keenly federal agents had chased down tips, however thin, in the days after the assassination.
:: Will secret Kennedy files end assassination conspiracy theories?
Among the revelations:
:: A senior reporter at the Cambridge News in the UK received an anonymous call about "some big news" in the US 25 minutes before the assassination. According to the memo to the FBI: "The caller said only that the Cambridge News reporter should call the American Embassy in London for some big news and then hung up." After news of the president's death came through, details of the call had been passed to the police and MI5. The reporter was not named but was described as "a sound and loyal person with no security record".
:: An April 1964 FBI document recounts shooter Lee Harvey Oswald's bus trip to Mexico in October 1963, including the names of the people sitting around him and his clothing: "A short-sleeved light coloured sport shirt and no coat."
:: The CIA intercepted a call Oswald made to a KGB officer at the Russian Embassy in Mexico less than two months before killing Kennedy and that CIA agents speculated he might be a KGB agent.
:: Longtime FBI director J Edgar Hoover said after Oswald's arrest that he "received a call in our Dallas office from a man talking in a calm voice and saying he was a member of a committee organised to kill Oswald". The police had assured him Oswald would be protected but this "was not done".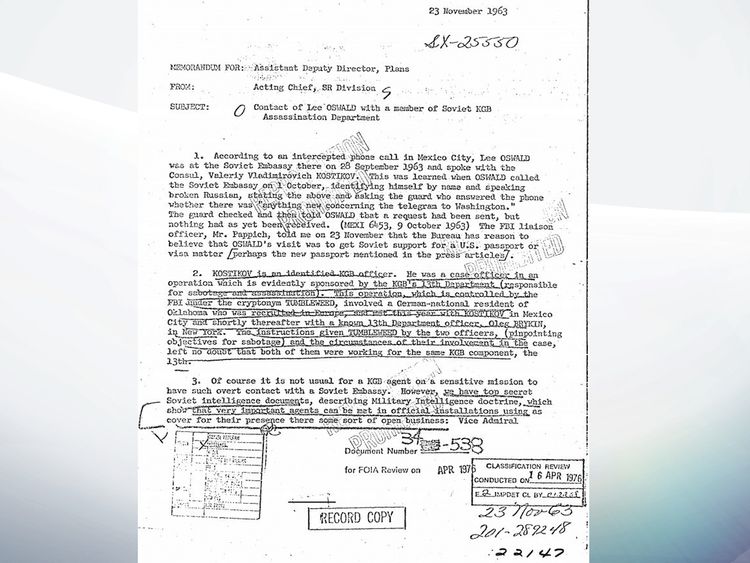 In 1964, the Warren Commission concluded Lee Harvey Oswald was the only gunman and a 1979 congressional inquiry found no evidence to support the claim of CIA involvement. But suspicion has persisted nevertheless.
A statement months ago from the National Archives had said it assumed the records would be "tangential" to what is already known about the killing.
President George HW Bush signed a law in 1992 requiring all documents on the assassination be released within 25 years, unless doing so would harm intelligence, law enforcement, military operations or foreign relations.
Mr Trump had confirmed just days ago that he would meet this deadline – 26 October.
The move by the Bush administration had been driven in part by the furore caused by Oliver Stone's 1991 film JFK, which claimed there was a vast conspiracy to kill the president.
source: news.sky.com