North Korea has reopened a hotline to South Korea, almost two years after it was disabled on the orders of leader Kim Jong-un,
South Korea confirmed it had received a call from the North at 15:30 local time (06:30 GMT) on Wednesday.
The North Korean leader had earlier said he was open to dialogue with Seoul and to sending a team to the Winter Olympics in the South next month.
The two nations have not held high-level talks since December 2015.
North Korea cut off the communications channel shortly afterwards, refusing to answer calls, according to officials in the South.
A North Korean official announced the hotline's re-opening in a televised statement.
He said the two nations would discuss the practical issues around a proposal to send a North Korean delegation to the Winter Games in Pyeongchang in February.
"We will make close contact with South Korea in a sincere and faithful manner," Yonhap news agency quoted the official as saying. He said the countries would "discuss working-level issues" about sending the delegation.
How has the South responded?
The press secretary for South Korea's President Moon Jae-in said the restoration of this communications channel was "very significant".
"It creates an environment where communication will be possible at all times," he said.
Where is the physical line?
Historically there has been more than one but this particular phone line is based in Panmunjom.
The border village, in the heavily guarded demilitarised zone (DMZ), is where the Koreas have historically held talks.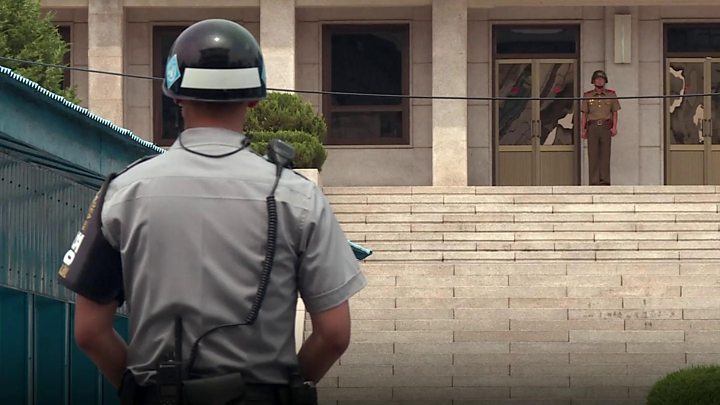 Why have the Olympics become so important?
In a New Year's Day speech, Mr Kim Jong-un spoke of lowering tensions and of melting "frozen North-South relations".
He said attending the Games would be "a good opportunity to show unity of the people" in North Korea.
South Korea had already indicated that the North's participation in the Games would be welcomed.
Seoul offered high-level talks in response, with President Moon Jae-in calling it a "groundbreaking chance" to improve relations.
It is not yet clear whether North Korea will accept that offer, but the opening of the hotline will allow for preliminary discussions to be held.
When did the line stop being used?
The North cut off communications on the line in 2016, following a row over the Kaesong joint industrial complex.
On Tuesday, a South Korean official said they had been trying to call since Mr Kim's speech but there had been no reply.
North Korea has come under increasing international pressure in the past year over its nuclear weapons programme.
Responding to the developments this week, US President Donald Trump tweeted earlier that economic sanctions and external pressure were "beginning to have a big impact".
On Tuesday, he boasted that his nuclear button was "much bigger" and "more powerful" than the North Korean leader's.