US President Donald Trump has said it is "unlikely" he will be interviewed by Robert Mueller – the man investigating possible ties between the Trump presidential campaign and Russia.
There was no collusion, Mr Trump said, adding: "I'll see what happens."
In June 2017, Mr Trump said he would "100%" be interviewed under oath.
He has consistently denied that his campaign worked with Russia to undermine his opponent Hillary Clinton, calling the accusations a "witch hunt".
Earlier this week the US media reported that Mr Trump's lawyers were in talks with the Mueller investigation to set a date for an interview.
"When they have no collusion – and nobody has found any collusion at any level – it seems unlikely that you would even have an interview," Mr Trump told reporters on Wednesday.
What is the investigation?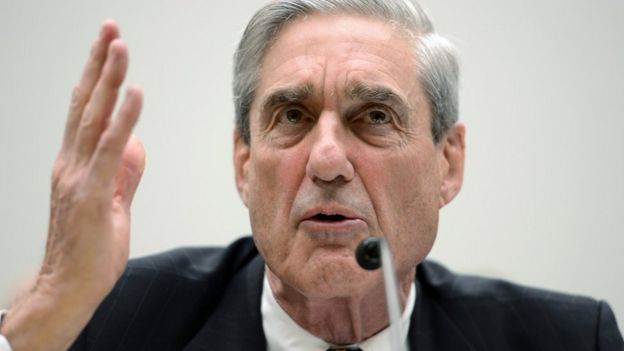 US intelligence agencies believe Russia tried to sway the election in favour of Mr Trump and a special counsel – that's Robert Mueller – is looking into whether anyone from his campaign colluded in the effort. The charge is denied both by Russia and by the US president.
Mr Mueller is looking into:
The Russian government's efforts to interfere in the election
Any links or co-ordination between Russia and Trump campaign-linked individuals
Any matters that arose or may arise directly from the investigation
What has it established so far?
It has come out that senior members of Mr Trump's team – including his son, Donald Jr, and the former National Security Adviser Michael Flynn – met Russian officials or alleged go-betweens, and some of the meetings were not initially disclosed.
Mr Flynn was charged after admitting making false statements to the FBI about meetings with Russia's ambassador as part of a plea deal.
Adviser George Papadopoulos has admitted lying to the FBI about meeting with alleged Russian go-betweens.
In October, Mr Trump's former campaign manager, Paul Manafort, and his business associate Rick Gates were accused of conspiring to defraud the US in dealings with Ukraine. Both deny the charges, which centre on relations with a former Ukrainian president who was very close to Russia.
The investigation has not yet requested to interview the president, but earlier this week US media reported that Mr Mueller had told the president's lawyers he intended to seek an interview. NBC reported that lawyers were contemplating letting Mr Trump answer in written form.
source: BBC