Adult film star Stormy Daniels is suing President Donald Trump over a so-called "hush agreement".
Daniels claims she and Mr Trump had an affair starting in 2006, but he denies the allegations.
So why is this story important? And what do you need to know?
Who is Stormy Daniels?
Stormy Daniels was born Stephanie Clifford in Louisiana in 1979.
She moved into the adult film industry first as a performer, before in 2004 branching out into directing and also writing.
Her stage name, Stormy Daniels, comes from Mötley Crüe's bassist Nikki Sixx's daughter Storm, and the US whisky Jack Daniels – which southerner Ms Clifford chose after reading an ad calling the drink "a Southern favourite".
You may also recognise her from such films The 40-Year-Old Virgin and Knocked Up, and the music video for Maroon Five's song Wake Up Call.
Anything else?
She also thought of running for a US Senate seat in Louisiana in 2010 but called off her run after she said her candidacy was not being taken seriously.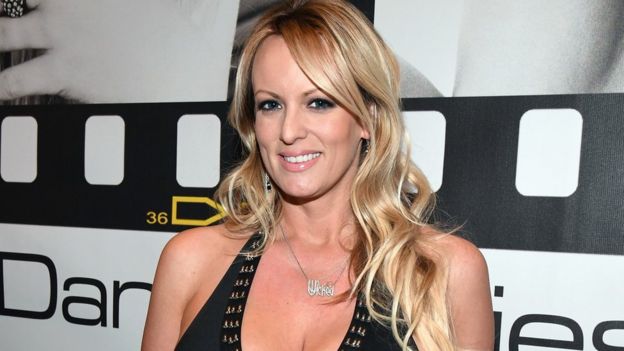 What does she allege?
It all goes back to July 2006 – when the White House was merely a twinkle in Donald Trump's eye.
Ms Daniels says she met him that month at a charity golf tournament in Lake Tahoe, a resort area between California and Nevada.
In a 2011 interview with In Touch Weekly, published in full in January, she says Mr Trump invited her to dinner and that she went to meet him in his hotel room.
"He was all sprawled out on the couch, watching television or something," she said in the interview. "He was wearing pyjama pants."
Ms Daniels alleges the pair had sex in the hotel room (Mr Trump's lawyer said he "vehemently denies" the allegation.)
If Ms Daniels' account is true, this would all have happened just four months after the birth of Mr Trump's youngest child, Barron.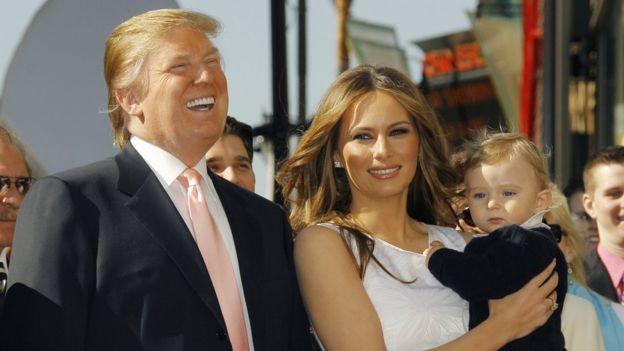 So what more has she said?
Ms Daniels said Mr Trump suggested he could bring her on to his TV show The Apprentice.
She also recounts watching a shark documentary with the future president.
Ms Daniels says he's "terrified" of the animal and – look away, shark fans – he apparently told her "I hope all the sharks die."
She claims the pair kept speaking for years afterwards. Ms Daniels said the last time they spoke was in 2010, around the time she called off her US Senate bid.
However, rumours of the affair started to appear before the November 2016 presidential election.
The Wall Street Journal reported just days before the vote that Ms Daniels had been in discussions with ABC's "Good Morning America" programme to tell all about the reported affair, before abruptly cutting off talks.
Why is the story in the news now?
It's been building up for a few months and isn't going away.
In January, the Wall Street Journal published an article claiming President Trump's lawyer, Michael Cohen, made a $130,000 (£94,000) payment to Ms Clifford in October 2016, one month before the election.
The Journal said the money was part of a non-disclosure agreement with Ms Clifford, which said she couldn't discuss the affair publicly.
"These are old, recycled reports, which were published and strongly denied prior to the election," a White House official said.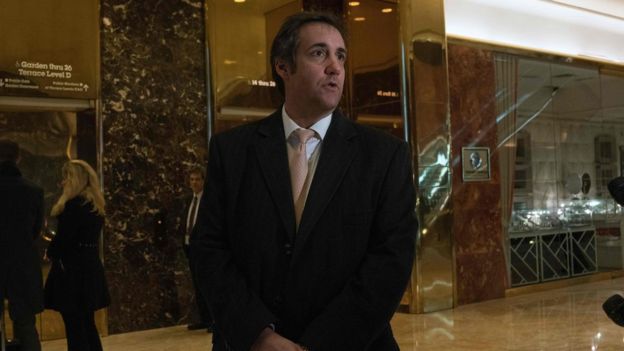 Mr Cohen denied the payment. In a statement to the Journal, he called the allegations "outlandish", and said they'd been "consistently denied by all parties" for years.
But in February he announced he had in fact paid Ms Daniels the money.
In a statement to the New York Times, Mr Cohen said neither the Trump campaign nor the Trump organisation knew anything about the payment, which he had made from his own pocket. He says he wasn't repaid.
"The payment to Ms Daniels was lawful, and was not a campaign contribution or a campaign expenditure by anyone.
Shortly after the Journal article, Ms Daniels launched her "Make America Horny Again" tour at a South Carolina strip club on the anniversary of President Trump's inauguration.
The manager of the club, Jay Levy, said he had booked her the day after the Wall Street Journal article about the $130,000 payment.
A leaflet for the launch poked fun of the alleged affair. "He saw her live," the flier said. "You can too!"
What's the latest news?
Ms Daniels on Tuesday said she was suing Mr Trump, claiming he didn't sign the non-disclosure deal, or "hush agreement".
Her lawyer, Michael Avenatti, tweeted about the lawsuit with a link to the documents filed in a California court.
The next day, reports surfaced saying President Trump had won a restraining order against Ms Daniels in February.
The order, won in private arbitration proceedings, reportedly stopped her from sharing "confidential information" about their alleged relationship.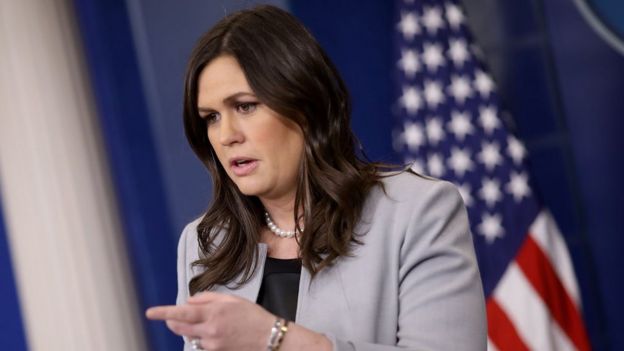 "This case has already been won in arbitration and anything beyond that, I would refer you to the president's outside counsel," White House press secretary Sarah Sanders said on Wednesday.
Ms Daniels' lawyer called the White House comments "ludicrous".
CNN reported on Thursday that President Trump was upset with Ms Sanders for the comments, as it was the first time anyone from the White House had indicated that Mr Trump was in any way involved with Ms Daniels.
What's been the reaction?
South Carolina congressman Mark Sanford is one of the few Republicans to comment. He told the Washington Post the claims are "deeply troubling".
"If it was a Democratic president and hush money had been paid in the campaign, would there be a series of hearings going on?" Mr Sanford asked. "I think you could probably point to a fair number of indicators that suggest there would be."
Democrats Ted Lieu and Kathleen Rice, representatives for California and New York respectively, asked the FBI to investigate Mr Cohen's payment to Ms Daniels.
The Daniels-Trump debacle has also trickled down to a rather more local level.
In Utah, Republican representative Mike Noel introduced a bill to rename a road to Donald J. Trump Utah National Parks Highway.
But Democrat state senator Jim Dabakis told local press that if the bill makes it to the upper house, he would propose a change to rename an adjoining road the Stormy Daniels Rampway.
What could it mean for President Trump?
The allegations surfaced at a tricky time for White House officials, and don't appear to be going away.
As well as the ongoing investigation into possible collusion with Russia, more and more of Mr Trump's staff have left or are under scrutiny.
The last thing the White House needs is another scandal to respond to.
It's also raised the spectre of a former president.
Remember that Bill Clinton faced impeachment proceedings after lying about his affair with staffer Monica Lewinsky.
Lanny Davis, a lawyer who served as special counsel to President Clinton, on Wednesday accused Republicans of "utter hypocrisy" for the way they're treating Mr Trump compared with how they treated Mr Clinton.
Source: BBC