South Korea says it has not received a response from Pyongyang on a summit between North Korean leader Kim Jong-un and US President Donald Trump.
In a surprise development, Mr Trump on Friday accepted North Korea's invitation to direct talks.
South Korean officials said Mr Kim was prepared to give up his nuclear weapons.
Details on the planned talks remain vague, with no agreement yet on the location or agenda.
Analysts are sceptical about what can be achieved through talks given the complexity of the issues involved.
"We have not seen nor received an official response from the North Korean regime regarding the North Korea-US summit," a spokesman for the South Korean Ministry of Unification said on Monday.
"I feel they're approaching this matter with caution and they need time to organise their stance."
South Korean officials who spoke to Trump are now on the way to China and Japan to brief the leaders of each country on the upcoming talks.
South Korean President Moon Jae-in's top security adviser, Chung Eui-yong, is scheduled to meet Chinese President Xi. Meanwhile, Suh Hoon, chief of the intelligence agency, is headed to Tokyo to speak with Prime Minister Shinzo Abe.
The surprise proposal for the summit comes after more than a year of heated rhetoric between North Korea and the US, and global concern that the hostilities might escalate into military confrontation.
North Korea has conducted several nuclear tests over the past year and developed long-distance missiles it says can carry nuclear bombs as far as the US mainland.
Talks between the countries would mark an unprecedented step in the conflict as no sitting US president has ever met with a North Korean leader.
Still, details of the meeting remain unclear.
"Pyongyang probably wants to wait to see how the offer was received in Washington," Andray Abrahamian, Research Fellow at Pacific Forum CSIS, told the BBC.
"There's already been a bit of confusion in the messaging from the White House so it probably makes sense to get some of the ground rules established before go public with it," Mr Abrahamian said.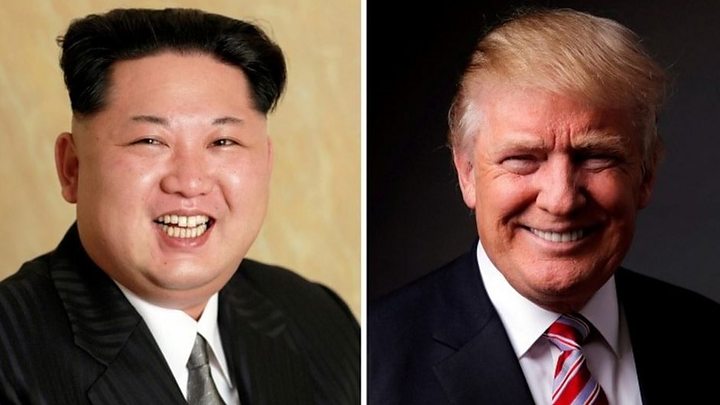 Sanctions relief
If the summit goes ahead, Mr Trump is expected to meet the North Korean leader by the end of May, while the two Koreas will hold separate talks ahead of that.
Observers are divided on whether talks could pave the way to Pyongyang giving up its nuclear ambitions or whether North Korea is merely seeking a propaganda win and a break from years of crippling international sanctions.
"Their short term objectives will be to get some relief from the sanctions," Mr Abrahamin said.
"Many pundits seem vexed that Kim Jong-un will use a summit for propaganda. This should not be a big concern….[it] doesn't mean that the United States is giving approval to its political system, human rights record or weapons programmes," he added.
Source: BBC