Arsene Wenger's final trip to Manchester United as Arsenal manager ended in defeat after an injury-time winner from Marouane Fellaini.
The Belgium international flicked a header past Gunners goalkeeper David Ospina from an Ashley Young cross.
Just three minutes earlier he had headed against the post, with Marcus Rashford bundling home the rebound from an offside position.
United had opened the scoring on 16 minutes when a header from former Arsenal player Alexis Sanchez was knocked on to the post by Hector Bellerin and Paul Pogba stabbed home the rebound for his third goal in four league games.
The hosts lost striker Romelu Lukaku to injury early in the second half, and moments later Henrikh Mkhitaryan was left in plenty of space to weave and strike through the legs of Victor Lindelof.
The game's tempo petered out after the equaliser – until Fellaini popped up to snatch the win for United, and secure Champions League football for next season.
The best of frenemies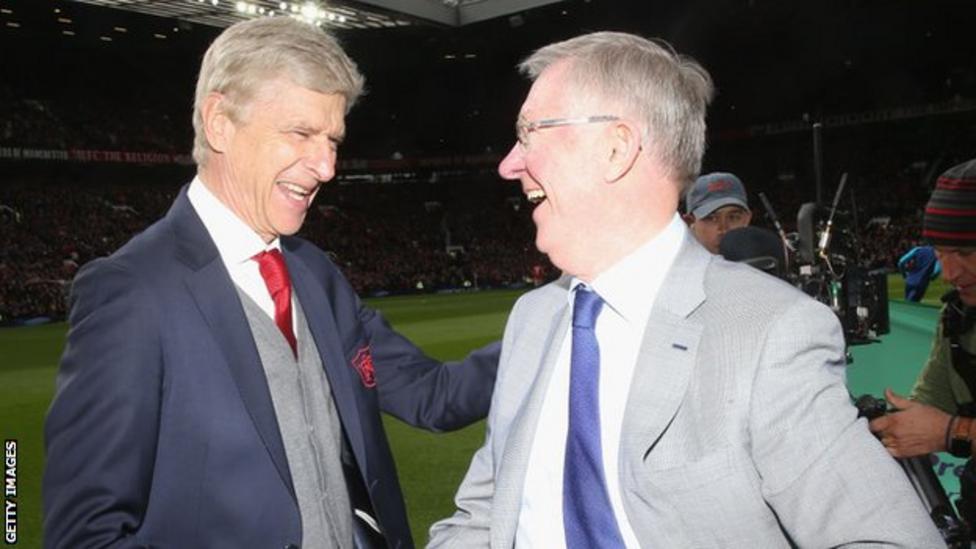 "I always got a great reception at Old Trafford," Wenger joked before Sunday's match, referring to his long-standing rivalry with United.
On this occasion, it was true. Old foe Sir Alex Ferguson was master of ceremonies in a pre-match presentation for the Frenchman, who will leave Arsenal at the end of the season after 22 years as manager.
The crowd applauded as Wenger was given a silver vase by former United boss Ferguson, and the pair embraced during a photo opportunity in which they were briefly joined by current United manager Jose Mourinho.
The atmosphere returned to normal after Pogba's opener, with the home crowd chanting 'we want you to stay' and the Arsenal fans responding: 'Arsene Wenger, he won the league here.'
Wenger started the game smiling, but left disappointed after his side stretched their winless run at Old Trafford to 11 matches.
Source: BBC